Dr. Prasad has done M.A., M Phil and Ph.D. from the School of International Studies,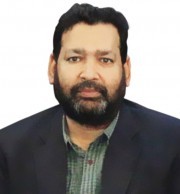 Centre for International Politics, Organisation and Disarmament, Jawaharlal Nehru University, New Delhi. He was awarded Ph.D on Inter-Parliamentary Union: Its Agenda and Impact in the Post Second World War period, which was later published as a book titled – "Towards World Parliament: A Saga of IPU, A Study in the International Organization". He is trained in research and analysis. Further, he has two books of international quality to his name and has been the Editor of Bhugol our Aap, a Hindi bi-monthly magazine on environmental issues from its inception. He is also on the panel of editorial advisors for the G'nY magazine that has been covering all aspects of environmental issues for the last 17 years. Dr. Prasad has been associated with LIGHTS since 2003 and has participated in many charitable activities undertaken by LIGHTS.
Dr. Prasad has worked with Indian Parliament in various capacities since October 1994. He took Voluntary retirement from service in 2017. At the time of VRS he worked as Addl. Director. He has got a vast experience in the functioning of Parliamentary system.
ARTICLES PUBLISHED :